Pre Primary Phase
At Lilyfontein Pre-Primary our learners are free to experience learning through play and discovery. We provide a stimulating environment where each child is encouraged to discover the joy and skills of learning.
Foundation Phase
At Lilyfontein Foundation Phase we develop the whole child and ensure balance between the academic, cultural, physical and spiritual spheres of learning.
Intermediate Phase
At Lilyfontein Intermediate Phase we believe in the holistic development of the child.  This is accomplished through the incorporation of the adventure programme, eco-schools programme and the use of a variety of teaching methods in our curriculum.
High School
At Lilyfontein the emphasis is on developing the whole child and preparing learners to become rightful citizens of the country. Lilyfontein School provides the Grade 9 learners in the GET-Phase with the opportunity to complete aptitude tests to provide the learner with additional support in making his or her subject choices for Grade 10.
A Word
From Our Principal
"Lilyfontein School is a family community with pride in our school. We delight in excellence and we strive to develop young people who are self-confident, happy and marketable within the changing society that is South Africa. "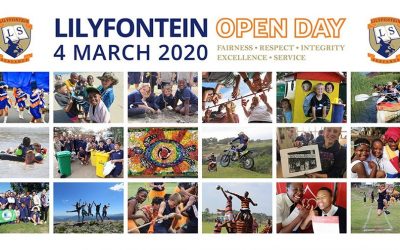 Lilyfontein School invites you to our OPEN DAY on the 4 March. We would love to showcase our school to any prospective learner and parents. Please take note of the times for the different grades on...
read more
SUBSCRIBE TO LILYFONTEIN
Please fill out the short subscription form to join the Lilyfontein Mailing list, and receive the latest News, Events and Updates from the School.