Governance
Governance:
Lilyfontein School is governed by a body known as a School Governing Body (SGB) which will consist of 12 elected members: the principal, 9 parents, 3 educators, 1 non–educator, principal staff member and 3 High School learners. Each representative holds a portfolio that will serve the needs of the school.
Examples include: Finance, Fundraising, Transport, Facilities, HR, Sport, Adventure, Communications and Marketing, Cultural Development and PTA Liaison
SGB Executive Committee:
This committee meets fortnightly and consists of the
Principal – Nic Els
Chairperson – Peter Allan Dengler
Deputy Chairperson – Dr Bongani Kubheka

Treasurer – Roslyn Eachus

Secretary – Sharon Allan
SGB Committee:
Angus Jackson
Ann-Lise Bollaert-Davies
Renier Roets
Emmanuel Musa Langa
Annelize Bursey 
Lani Petzer 
Non-Educator Representative: 
Educator Representatives:
Wendy Human
Brett Geldenhuys
Margaret Mitchell
Learner Representatives:
Ovayo Baku
Lené Steyn
Olwethu Mphothulo
Management
The school is managed by the School Management Team (SMT) together with the Primary and High Leadership Teams (LT). The SMT is responsible for the daily running of the school within the organisational domains of academic, pastoral, cultural, sport, adventure and administration. Each of these domains has a staff member co-ordinating a specific committee that ensures correct procedure in each domain.
School Management Team:
Principal – Mr Nic Els
Deputy Principal – Mr Mike Cousins
Head of Academics – Mr Donald Matthewson
Head of High School – Mrs Anita Middleton
Head of Intermediate Phase – Mr Brett Geldenhuys
Head of Foundation Phase – Mrs Alison Fouché
Head of Pre-Primary – Mrs Johanna Beukman
Head of Sport – Mr Luke Sofute
Head of Adventure – Mrs Margaret Mitchell
Head of Media – Mrs Christina Matthewson
Operations Manager – Ms Lisa van Wyk
Middlecourt Trust:
Middlecourt Trust owns all the land and facilities on the 35ha section of the school. Middlecourt's objective, as stated in the Trust Deed, is to provide the infrastructure for a high standard of education to Lilyfontein School. Middlecourt Trust is managed by a Board of Trustees.
Current trustees are:
Colin Davies
Martin Harmse

Angus Jackson

Roz Moore

Gustav Beukman

Angus Warren
Parent Teachers Association (PTA)
The Governing Body established the PTA with the following objectives:
To promote and facilitate the exchange of views and the maintenance of relationships and harmony between parents of learners attending the school and educators at the school.
To assist the Governing Body as may be required by it in all matters which may be of benefit to the school and the learners and their education generally.
Generally, to promote the interests of the parents and educators in the involvement in the general life and interests of the school and the learners.
Current Committee members are:
Chairperson: Priscilla Joy Dengler –
Vice Chairperson: Lisa Gaylard –
Secretary: Annette Heger –
Fathers Representative: Andrew Eachus –
Parent Liaisons Per Phase:
PP: Shale Biggs
FP: Lisa Gaylard
IP: Roxy Swart
HS: Michelle Lindstrom
Cakesale Co-ordinators:
Clarissa Fisher
Natalie Biggs
Tea Co-ordinator:
Events:
Tomato Trot: Stan Andrews
Funduro: Martin Harmse
Adventure Race: Dallas Dreyer
Golf Day: Michelle Lindstrom
The PTA is responsible for:
The raising of funds for the benefit of the school subject to consultation with the Governing Body fund-raiser. Such funds to be subject to the administration and control of the treasurer of the Governing Body.
Arranging and holding functions for members to promote and facilitate a creative relationship and harmony between parents of learners attending the school and educators at the school.
Fulfilling a support function regarding the educators of the school.
If you would like to get involved in the Lilyfontein PTA, please contact one of the Committee members.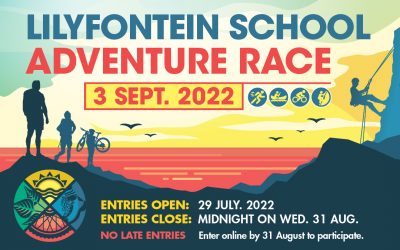 RACE DETAILS  "Adventure Racing is a true test of the human condition and spirit and one of few extreme sports that showcases the extraordinary power of teamwork." Says Mike Clarke Lilyfontein...
read more
SUBSCRIBE TO LILYFONTEIN
If you would like to stay updated on the latest school news, please join Lilyfontein School's mailing list by clicking on the Subscribe button below to receive our weekly newsletter, published each Friday.
PRIVACY NOTICE
In order to join Lilyfontein School's mailing list, you are required to provide us with your personal information so that you can be added to our database. This information includes your first name, last name, mobile number and email address. By subscribing to Lilyfontein School, you hereby agree and consent, in accordance with the Protection of Personal Information Act 4 of 2013, to the processing of this personal information. Lilyfontein School hereby declares that we will take all reasonable and lawful steps that we consider appropriate to protect the privacy of your information. We further declare that at no time will your information be sold or shared with any third parties or used for any reason other than for sharing news and events related to Lilyfontein School.
For more information about how information is collected when you browse our website, please read our full Privacy Notice