Academic Approach
At Lilyfontein Intermediate Phase we believe in the holistic development of the child.  This is accomplished through the incorporation of the adventure programme, eco-schools programme and the use of a variety of teaching methods in our curriculum. 
We follow the CAPS syllabus and balance learning through theory and practical activities inside and outside of the classroom.  Academic achievements are rewarded with Lynx scrolls for 85% and higher at year end for Grades 4 through to 6.  Grade 7s earn their academic badges each term by achieving an aggregate of 80% or higher.
A remedial department is available for those learners that have been identified with learning barriers.  
With the support of parents, we strive to enable each child to respect the needs, beliefs and cultures of other people; to explore and appreciate the wonders of the environment and to respond to the challenges of life with confidence.
Co-Curricular
As an adventure-based school our learners participate in campouts (2 to 4 nights out) and adventure days (1 per term).  These activities are looked forward to by the entire grade as the learners are exposed to multiple activities that require teamwork, divergent thinking and develop grit, resilience and a passion for the outdoors.
Our extra-mural program offers adventure sport for the adventurous; regular sport such as tennis, hockey, rugby, swimming, paddling, MTB cycling, majorettes and netball; Rotary International EarlyAct for those learners who want to give back to the community; Eco-club for the environmental enthusiasts; Art club for the creative minds and choir, steel drums, marimbas, singing, piano and guitar for the musicians. The extra-mural programme runs from 14:30 to 15:30 or 16:00 daily.
Learners are required to participate in a minimum of two afternoons of sport per week per term.
School Routine
The Intermediate Phase day starts promptly at 07:30 with all 8 classes assembled to greet, share birthdays and share sporting/cultural results and events from staff.  Register period takes place in each classroom from 07:35 to 07:40. Any learner that arrives late must report to the front office before attending class.
Learners are provided with a 5-minute fruit break between 09:10 to 09:30. School ends at 14:10 each day, except for Wednesday, when it ends at 13:20 due to sport matches.
Communication
At Lilyfontein School, we value an open and co-operative relationship between parents and staff. It is therefore important to ensure that the school has up to date and correct contact details. We are an eco-friendly school and prefer to use as little paper as possible; we therefore use the D6 as a vital communication portal which must be checked regularly for any updates and important letters to parents. Alerts inform parents of more urgent information.  If learners are absent or parents require a meeting with a teacher, parents are requested to please e-mail the front office and CC in the relevant teacher.  The weekly newsletter gives parents a picture of the 'whole school' activities.
Follow the steps below to install the D6 School Communicator:
Go to www.school-communicator.com/download.php
Aftercare
There is no after-care available in the Intermediate Phase.  However, there is a teacher on duty each day in the Phase.
Learners are provided with the opportunity to complete their homework in the assigned homework duty class each afternoon from Monday to Thursday from 14:30 until 16:00.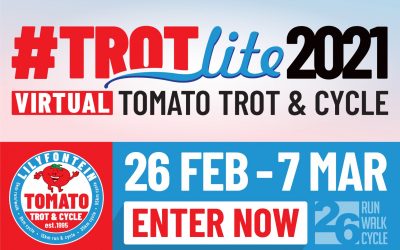 EVENT DETAILS For one year only, Lilyfontein School will be adapting the famous Tomato Trot & Cycle to a #TROT-Lite, virtual version. The purpose for this is to ensure the event still takes...
read more
SUBSCRIBE TO LILYFONTEIN
Please fill out the short subscription form to join the Lilyfontein Mailing list, and receive the latest News, Events and Updates from the School.