ADVENTURE
The Lilyfontein Adventure Programme, which has been part of Lilyfontein's curriculum offering since 2000, forms part of the Life Orientation curriculum as a foundation for other subjects as well as a tool for character building.
ARTS AND CULTURE
Lilyfontein offers Art as a subject from Grade 1 through to Grade 9 in our two vibrant art classrooms that are always hives of creativity. 
AWARDS
This is a brief overview about the awards page and what we want to say etc I will add as soon as I get some info for this page/section of the website.
ECO SCHOOLS
The Eco-Schools programme is an international programme of the Foundation for Environmental Education (FEE) that was developed to support environmental learning in the classroom.
INTERACT
Lilyfontein has a big heart and we actively serve both our community and other NPO's and organisations that are in need. 
MUSIC
Music is an integral part of every Phase of Lilyfontein. We offer class music as part of the curriculum for Life Skills/Creative Arts in Grade R through to Grade 6.
SOCIETIES
In a constantly changing environment, developing skills is an essential part of being able to meet the challenges of everyday life.
SPORT
Lilyfontein is a school that firmly believes in raising children to be balanced in all spheres of life.  We encourage our learners to participate in as much as possible.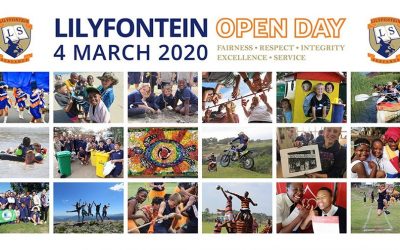 Lilyfontein School invites you to our OPEN DAY on the 4 March. We would love to showcase our school to any prospective learner and parents. Please take note of the times for the different grades on...
read more
SUBSCRIBE TO LILYFONTEIN
Please fill out the short subscription form to join the Lilyfontein Mailing list, and receive the latest News, Events and Updates from the School.