Arts & Culture
Lilyfontein offers Art as a subject from Grade 1 through to Grade 9 in our two vibrant art classrooms that are always hives of creativity. With the knowledge that the arts are essential in the development of the whole child, our art department provides our learners with the space for self-expression through a wide variety of art forms such as printmaking, collage, ceramics, drawing and painting and design.
Art club is offered as an extra mural in all the phases and our learners' dramatic talent is fostered and developed in the performing arts classes that run through the phases.  Productions such as the foundation phase concert, interhouse plays, Lilyfontein Talent Show and the X-Factor provide opportunities for showcasing the talent of our learners as they develop their performance skills.
Lilyfontein recognises the invaluable skills a child learns as they create or perform, skills which transfer over to all spheres of their development.
We exhibit at:
EL Fest Eisteddfod grade 1-12 – Belgravia Art School
East London Primary School's Art Exhibition – Belgravia Art School
East London High Schools Art Exhibition – Belgravia Art School
School Displays, Founders Day, Open Evenings, Prize Givings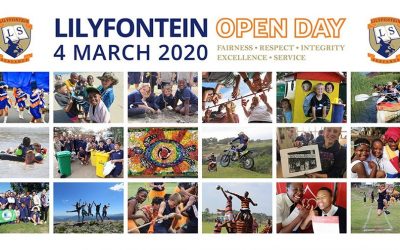 Lilyfontein School invites you to our OPEN DAY on the 4 March. We would love to showcase our school to any prospective learner and parents. Please take note of the times for the different grades on...
read more
SUBSCRIBE TO LILYFONTEIN
Please fill out the short subscription form to join the Lilyfontein Mailing list, and receive the latest News, Events and Updates from the School.