Application Procedure
Lilyfontein School hosts its annual information evening/day each year in February or March.  While Indication of Interest forms can be submitted after this event, application forms will only be accepted and reviewed during the second term as per departmental regulations.
 Procedure for submitting applications:
Complete the Indication of Interest form which can be obtained from the front office or downloaded
Ensure that all requested supporting documents are attached (incomplete applications will not be considered). Only hard copies of applications will be accepted (no faxed or emailed applications) during the second term.
Submit applications by hand to reception during office hours 07:30 – 15:00 weekdays during the application period set by the Department of Education.
Any application received after the admission period is considered a late application and will only be reviewed once the admission process has been completed and if space is still available.
All applications are considered and reviewed within the parameters set out in the Admission Policy.
Should space be available, parents may be called for an interview.  However, an interview does not guarantee acceptance.
Parents will be notified of the outcome of their application once the full process has taken place.
While the school endeavours to notify learners as soon as possible the outcome of their application, learners will be informed no later than the end of August or as per departmental timeframes.
Should space be available at the start of the academic year, preference will be given to transferred learners from out of town.  .
Documents required to be submitted with the Indication of Interest form:
Learner's current and last two year's school reports
Current and last two year's statement of school fees
Copy of learners unabridged birth certificate
Proof of Residence
School Fee Structure
Download the school fee structure for 2020 here. Please note that these fees are subject to change each year. DOWNLOAD: Lilyfontein School 2020 Fees Structure
School Tour
To book a tour of the school, please contact . Tour time slot is 10am Tue, Wed, Thur.  Please ensure that you book in advance as space is limited to these days and times.  Tours last around 45 minutes.
If you have any questions, please do not hesitate to contact the school office on:
043 737 4258.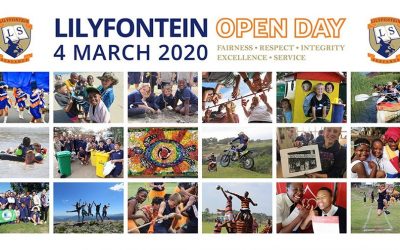 Lilyfontein School invites you to our OPEN DAY on the 4 March. We would love to showcase our school to any prospective learner and parents. Please take note of the times for the different grades on...
read more
SUBSCRIBE TO LILYFONTEIN
Please fill out the short subscription form to join the Lilyfontein Mailing list, and receive the latest News, Events and Updates from the School.